Have you ever felt lost, empty and numb throughout your life? When you feel this way, is there a part of you where you are waiting for someone to save you from the miseries of life?
If you feel lost, it's okay. Your feelings are valid, and your situation is being understood.
Being lost feels like you are in autopilot mode doing the same thing repeatedly. Going back to the same routine, unhealthy habits, and finding comfort in the same pain that hurt you.
It's okay if you don't know what you are doing in life. It is a phase in life that shall pass and a wave of emotions you can ride.
Have you felt like your world has turned upside down? Life has pulled you to rock bottom, and things are difficult, like there's no way out—you feel stuck!
There can be certain times that you don't feel sad, but you don't feel happy as well. Or it could be a case where you indulge in melancholy like an addiction.
There is no sense of fulfillment and satisfaction in life. Instead, you feel like you are drowning in an ocean deep without the genuine sense of drowning.
It is a complicated and frustrating feeling. You are emotionally numb and don't care whether you die, or someone saves you.
It is okay to feel this way sometimes. It could be a good thing for you to experience this.
Feeling lost might mean you no longer want who you are, which could be a big sign of change. You are slowly shedding your skin uncomfortably, and your mindset is starting to shift into wanting to change the way you think.
There's no found if there's no loss.
Being lost is a way of finding your true identity. It's a long, messy journey, but if you keep going, you'll get there.
It would be best if you let go of the burdens of the past and the pressure of the future. Instead, focus on the small steps in front of you.
Set your eyes on the goal but fall in love deeply in the process.
The only way to get out from being submerged in the darkness is to swim back up bravely. So, the first thing you can do to get out of feeling lost is to be aware and accept that you are lost.
Know that it is okay to feel lost and give yourself selfless forgiveness.
Without direction and purpose in life, you'll feel lost. Life is tough and challenging when you don't have any definite reason or don't know your "Why" in life.
So, permit yourself to ask yourself why. But no expectations because you don't have to figure it out in one night.
What do you want to become? What is it that you truly desire and why?
Any direction is better than no direction at all. So, it's an excellent time to explore new things that you might love doing.
Another thing is, you may be reading this because you've been through this life cycle, and you happen to unstuck yourself. So now, you are witnessing people going through the same kind of melancholy.
When you witness someone leading a directionless life, your first chain of thoughts is to save them. You don't want them to go through the same kind of pain you experienced!
You can show love and compassion for the lost. Be a mirror of God to others.
Like the Lord, he is reachable and approachable, and his arms are available for those in need. Prayer is a thoughtful way to help those who are feeling lost right now.
Continually love others in any form. Your goal is to be loved, to love, and give love.
Love is a gift blessed by the Lord to you. It reflects your faith, where greater love comes greater faith.
Prayer for Lost Friend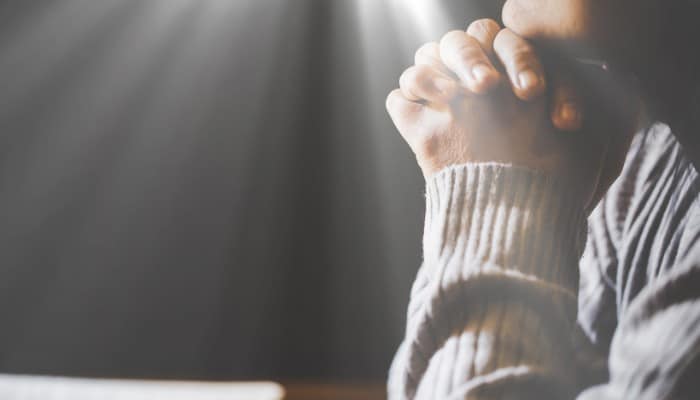 There are times that you may want to help other people, but they are the one who doesn't want the help. It is usual for people who are feeling lost to reject help.
So, if you want to accompany them in their growth journey, you must have more patience and understanding than anyone else.
In your own time, you can pray for your friend for openness in change and welcoming help in their life.
Lord of light, I intercede for my friend who is feeling lost right now
They have been feeling disconnected from other people and their own life
Please bring into their awareness that if they call on your name, they will find direction in life, comfort, and peace in their heart
I pray that you enlighten my friend's heart, mind, and soul
Open their mind and heart to change to welcome help in their lives
Allow them to feel your presence, renew their faith, and give them hope in life
Give them courage and strength and help them to get back on their feet again
Help her to find her true self and heart's pure desire
Send people and use them as a vessel to give direct guidance in their life
Give them consciousness that will allow them to transcend to their highest selves
Help them understand your words, plans, and will
Allow them to see the miracles of breath and the beauty of life
Guide them into enlightenment and let them know that there's more to life than all worries and fears
Make them courageous enough to step out of their comfort zone
Oh Lord, allow them to grow in your love and light
They deserve to see the beauty of life, to experience the peacefulness of their heart,
Let them hear the silence of their mind and give them contentment in your love
Please provide them with the confidence to trust your goodness and grace
Oh Lord, awaken their lost soul and turn their hearts into conviction!
Pour out love and light into their soul, heart, and mind
I believe in your mighty grace, and I know you will allow them to find their true self. Amen
Prayer for Lost Sheep
Everyone is precious to God, and his Kingdom is open to everyone, even those sinners who transgress. In the Parable of the Lost Sheep written in the Gospel of Matthew (Matthew 18:12–14) and Luke (Luke 15:3–7), you will learn the love and compassion of God for everyone.
You will feel how God rejoices once you call to him and repent your sins. He would love to welcome you into his Kingdom.
"So he told them this parable: "What man of you, having a hundred sheep, if he has lost one of them, does not leave the ninety-nine in the open country, and go after the one that is lost, until he finds it? And when he has found it, he lays it on his shoulders, rejoicing. And when he comes home, he calls together his friends and his neighbors, saying to them, 'Rejoice with me, for I have found my sheep that was lost.' Just so, I tell you, there will be more joy in heaven over one sinner who repents than over ninety-nine righteous persons who need no repentance." (Luke 15:3-7 ESV)
"What do you think? If a man has a hundred sheep, and one of them has gone astray, does he not leave the ninety-nine on the mountains and go in search of the one that went astray? And if he finds it, truly, I say to you, he rejoices over it more than over the ninety-nine that never went astray. So, it is not the will of my Father who is in heaven that one of these little ones should perish." (Matthew 18:12-14 ESV)
Lord, the Great Shepheard, be pleased to take a lost sheep out of the darkness
Draw them in the light of your word and gospel
Allow them to confess their transgression and repent their sins
I know God, you accept their remorse once they call to you sincerely
Guide them to understand your word so they can accept your will as their truth
Help them to forgive themselves just how you have forgiven them
Please help them to hope again and renew their faith
Fuel that cold stone heart that they may see the light of the truth
I appeal to you, Oh Lord, carry the lost sheep back to your loving arms
Graciously call them in repentance and pardon them from all of their sins according to your mercy
They needed your love and care more than anyone else
Grant salvation to their souls that they may find themselves in service of you and your people
You hear me well, Oh Lord, and I trust that these people will find themselves by your divine grace and blessings. Amen
Prayer for Lost Souls (Catholic)
As a Catholic, you might've been aware of the story of The Parable of the Lost Sheep. It is God's delight to see lost sinners call for him, confess and turn back to his arms.
You may have witnessed that there are a lot of people who need to see the light when they feel lost. But unfortunately, these people might be blinded by the darkness engulfing their souls.
It is in Christian teachings to pray for these people.
Pray this prayer to others to spread love, light, and positivity. May all the lost be found in the name of the Lord!
Oh, Merciful and Gracious Lord, you are our light in darkness and hope in failure
I trust you so much that I entrust to you a lost soul struggling to find sense in life
Hug with your love all those people who are feeling depressed, lonely, sad, and empty
Please give them the courage to get out of their comfort, reminding them of all the pain and emptiness.
Awaken their soul that has been buried deep by trauma, struggles, frustration, anger, and pain
Oh Lord, please help them to forgive themselves so they can unselfishly forgive others too
Please help them to see their worth, their value and take away all self-doubt and insecurities that are dragging them down
Enlighten them to love their self so much that they will turn and find you,
And so, they could love other people more than they deserve too
Lead them to your will and allow them to see their purpose in life
Lord, forbid them to feel lost and empty again
Surround them with people who will love them and uplift them from darkness
People who a willing to go through a journey full of changes and growth with them
Free them from the cage that their wounded self has created
Guide them with your loving light to find an abundance of happiness, love, and peace in their self
O Lord, I humbly ask you to be their refuge, their home, their peace, and their direction
You are worthy of trust and hope
Renew their faith and guide them to a better place! Amen