The Two of Wands cards belong to the many Minor Arcana cards in the wand tarot deck. This tarot card is associated with freedom, duality, and choices. This card also has a close link with the number 2.
Same as the Queen of Pentacles, Two of Wands talks about independence, the freedom to choose and be where your heart points you. The appearance of this card in a tarot reading has a similar connotation with the Seven of Swords in reverse. It presents you with questions that will make you think twice about your choices.
You may be in a period of your life where you feel unsure where you are truly headed, and two of Wands's appearance in your life is very timely. This card will assist you in making significant decisions that can impact your life.
If you are looking for answers on what this Minor Arcana card may mean in your life, then you have come to the right place. This article will be your guide in understanding the cryptic message that lies behind this card.
Two of Wands Upright Keywords
Growth

Choices

Discovery

Preparations

Planning

Taking Chances

Two paths

Unsure decisions

Anticipation

Expectations

Impatience

Restlessness

Indifference

Greediness

Overseas travel
Two of Wands Reversed Keywords
Dreams

Personal aims

Fear of the unknown

Impulsiveness

Overthinking

Carelessness

Neglect of duty

Hesitation

Too cautious

Be left in place

Canceled plans

Torn between choices

Unexpected return

Disappointment
Two of Wands Meaning and Description
The Two of Wands is depicted by a man standing on his castle's open-air gallery with a small globe in his hand. He looks down on his whole kingdom, in which the blue sea is on the left side and the mountains and terrains situated on the right side of the card. This represents the unlimited potential that he must reach for all his endeavors.
The fertile land below him signifies that he has a high chance of succeeding. The rocky mountains on the horizon represent the problems that he needs to overcome.
His clothes were of the color orange, and on top of it, he wears a red robe. The color orange represents fulfillment and ambitions, while the red robe indicates his readiness to go into action. His hat is a symbol that embodies authenticity, that you must stay true to yourself irrespective of what would happen.
There are two blossoming wands on the card, one is being held by the man, and the other is firmly attached on the castle's veranda. The man's look suggests that he still ponders the possibilities that may happen once he is out in the field. The other wand affixed on the wall signifies that he is not yet ready to go, and he is still on the planning stage.
Upright Two of Wands Meaning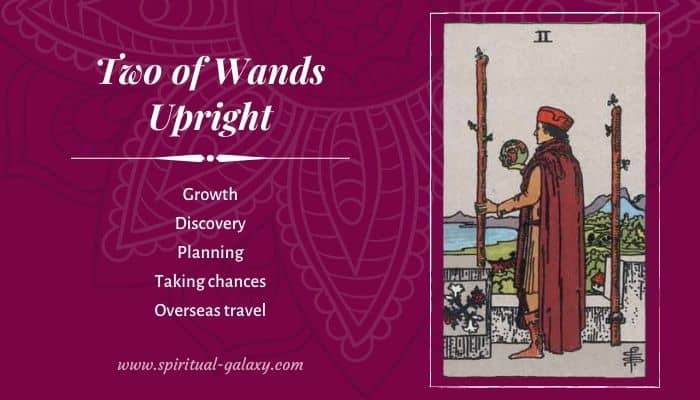 An upright Two of Wands signifies that you've finally figured out the things you wanted. You've been contemplating lately the steps you need to take to deliver you closer to your goals. The energy that the upright Two of Wands brings is inspired by the Ace of Wands, where plans and goals are manifested into a reality.
Now that your objectives are clear to you, you are now faced with different choices to choose from. An upright Two of Wands's appearance presents you with different options that are crucial to your success. This card advises you to consider the steps that you need to take, making sure that you think through the pros and cons.
Opportunities are presented to you, and you must carefully choose which path to take. There is growth in all areas of your life, and now is a crucial time to maintain your efforts to make it work for you on your end.
The vital message of an upright Two of Wands for you is to be careful with your decisions. This card senses that you are still not yet ready to take action; hence, you must carefully plan your next steps to avoid failing or making a mistake. This is a very crucial stage of your life; you are torn between taking the risk or stay in the comforts of your bubble.
The unknown is scary, and the thought of not knowing is overwhelming. But the same with the message of Queen of Sword, an upright Two of Wands act as a symbol of empowerment to motivate and encourage you to move forward . It will be your guiding totem as you go along your journey towards attaining your aims. Let your intuition be your guide, and often pray to strengthen your faith.
Two of Wands (Upright) in Spirituality
An upright Two of Wands concerning spirituality indicates that you have this yearning feeling to explore more about your spirituality. You feel this strong tug inside you to explore and learn more about the spiritual path that you are taking.
If you resonate within this level, it is best to follow where your intuition leads you. Be open to new ideas and widen your mind to comprehend the new knowledge your spiritual exploration has given you.
Two of Wands (Upright) in Health
The appearance of an upright Two of Wands in relation to your health presents you with two choices that can significantly impact your overall well-being. If you are battling with an illness or have recently been injured, this card gives you two treatment options. It is vital that you are comfortable with whatever choice you choose, and it must come from you. Do not decide based on what other people tell you; listen to your heart and follow where your intuition is pointing you.
Two of Wands (Upright) in Career and Finances
Unlimited potential and possibilities are what an upright Two of Wands is presenting you. In the career aspect, this card presents you with two options. You are given the opportunity to choose from two career positions offered to you by your company. It could either be that you are in a situation where you feel confused about staying on your current job or taking a new career path.
If you are in the business sector, you may be thinking of expanding or merging with a more prominent company. In the financial aspect, an upright Two of Wands signifies financial stability given the promising opportunities presented to you in your career or business.
Two of Wands (Upright) in Love and Relationships
An upright Two of Wands in the aspect of love is not a great card to have. If you are single, this card presents you with two choices between two people who admire you. This card could also signify that you feel torn in choosing between two lovers, and your feelings get in your way of decisions.
If you are in a relationship, this card is also not a good sign. This indicates that you are having problems with your relationship lately, such as misunderstandings and constant arguments. This card is a sign that there is a deeper reason for the problem you're facing in your relationship. An upright Two of Wands indicates that one is unfaithful while in a relationship. Issues such as cheating, adultery, and lies are the possible reasons why your relationship lack commitment.
Consider having an honest talk with your partner if you want to save your relationship. Maybe there are things that you need to improve and adjust in your relationship. This card will be your guide if you genuinely want to keep your relationship. As long as you and your partner work together and communicate honestly, you have a bright future ahead of you.
Reversed Two of Wands Meaning
A reversed Two of Wands card urges you to look deep in yourself and think of the things you truly want in life. When presented with many choices, it's easy to get overwhelmed and lost your true purpose. Hence, this reversed card is here to remind you to keep a clear picture of the things that matter to you most.
Often, we get confused about where we are truly headed. Especially if there are external forces that influence our decision-making and cloud our judgment. The reversed Two of Wands is how your spirit guides tell you to go back to where it all started. You may have forgotten your true purpose; thus, this card tells you to go back again to the basic and mind map the motivating force that led you to start this expedition.
Another message of a reversed Two of Wands is to tell you that you need to have conviction if you want to turn your plans into reality. This card will emerge if you have visionary concepts and ideas but lack a clear plan to reach your endpoint. Because of this, you often face roadblocks after roadblocks due to inefficient planning. Frustration and discontentment arise because you cannot get the desired results that you want.
Keep in mind that a goal alone cannot get you anywhere. You must take certain steps and risks to manifest it to reality. The reversed Two of Wands appeared before you to remind you to meditate and think of the number one reason you want to attain that particular goal. Remember the rush of excitement and enthusiasm when it first dawns on you. Use it as a motivating force to pursue your aims and keep your purpose close to your heart.
Two of Wands (Reversed) in Spirituality
A reversed Two of Wands signifies that you have a deep yearning in your heart to explore more about your spirituality but feel torn to do so. The reason for this is that you are afraid that your views about your beliefs would change. However, the reason for the appearance of a reversed Two of Wands is to motivate you to face your fears and be open to new spiritual learnings. Our body is just a vessel for our soul, and you need to accept that change is necessary for your spirit to grow.
Two of Wands (Reversed) in Health
A reversed Two of Wands in relation to your health signifies that you need to reconsider your treatment options. If you are battling with an illness or have recently been injured, it would be best to get a second opinion from another healthcare provider. It is best to have multiple options to choose from so you can carefully assess the best alternative treatment available for you.
Two of Wands (Reversed) in Career and Finances
A reversed Two of Wands concerning your career signifies that you lack the grit and courage to step up in your current career position. Promising opportunities have been presented to you, but you turned them all down because you are already comfortable in your status. Now the time has passed by, and you are still in the same position where you are before, and you think that if only you took the risk, then maybe you are much more successful than you were yesterday.
In a financial aspect, a reversed Two of Wands signifies that your finances are not in good shape. You need to balance and manage your finances responsibly.
Two of Wands (Reversed) in Love and Relationships
Being in a long-term relationship, it is easy to fall into a mundane pattern. Keep in mind that there is a big difference between being comfortable and being happy in a relationship. The appearance of a reversed Two of Wands card signifies that you do not feel happy in your relationship anymore and only staying because of comfort and convenience. The fact that you two have been together for a long time is the main reason that stops you; hence that's why you cannot seem to let go even though you two are miserable in your current situation.
The Two of Wands card is also related to travel, and if it is in a reversed position, it signifies that you want to travel or move to another country in hopes of better opportunities, but your partner does not want to. If you cannot settle your differences, this relationship is at risk of crumbling.
If you are single, a reversed Two of Wands lets you choose to stay single or go back to your previous partner.
Two of Wands Yes or No
In a question of yes or no, the answer for the Two of Wands is in the middle. Since it's the card of taking risks, there is no predictable outcome that we can expect. However, this does not mean that this card is not good. If you view its guiding message on a positive note, you can use it to your advantage to improve yourself and attain all your goals.
Two of Wands Advice
You don't always have to be certain. It's okay to be indecisive when you're at the point of making a decision.
The Two of Wands encourages you to avoid pressuring yourself. You don't have the ability to figure everything out and arrive at a conclusion.
It's okay to make mistakes or regret your choices. After all, we have different reasons why we choose a path instantly.
It may not make sense initially, but it will be worth it. You don't have to doubt if positivity will come in the result.
Appreciate how you choose the possible choices that are present.
Two of Wands Reversed Advice
It's okay to be impulsive in making decisions sometimes. However, you shouldn't normalize it and make it an obsession.
The Two of Wands in reverse shows your outcome is out of hand. Yet, you continue to choose a path over that you have no supreme control.
If you think things are going wrong, sit back and reflect. Think about the things you shouldn't have taken.
If you feel like your plans are falling apart, maybe it's time to reshape. You need to destroy or reconstruct your strategies.
Taking the leap of faith is okay, but don't dwell on it too much.
Two of Wands as a Person
You have your opportunities left and right. As a result, you're willing to take them all as an essential aspect of your life.
The Two of Wands is someone with solid charisma. You're born to be a leader, and people will easily submit to you.
You're someone who doesn't hesitate to lead and make orders. People may look up to you for handling your subordinates with order.
The vision of your future has always been clear to you. As a result, you're willing to accomplish all the goals you have.
Your drive for success also leads you to competition.
Two of Wands Reversed as a Person
Two of Wands as a person is someone who often hesitates. This would result in the delay of opportunities and goals that are in store.
Perhaps you're known by many as an indecisive individual. Because of this, you constantly doubt your decision and open yourself to other choices.
Since you're indecisive, you would let others decide for you. You don't have a clear vision of how to set your dreams.
You often lack confidence in yourself and are unable to lead. This is because you constantly doubt your skills and gifts.
You refuse to show your achievements to the world.
Two of Wands Present
The Two of Wands in the present position shows you an abundance of success. Don't worry too much, for you are on the right path toward your dreams.
This could mean that you're engaging in a creative lifestyle that's beneficial for growth. You pour your artistic mind into the things that you love to do.
This is also a time when you continue to take care of yourself. You're currently practicing bolstering your self-confidence.
Rest assured that all your hard work will soon pay off. You don't have to question yourself if you're not worthy or not good enough.
Two of Wands Past
The universe is sorry things went wrong with you in the past. Your decisions made you leave your comfort zone to explore unfamiliar things.
You were used to making choices out of impulsiveness. This could be the cause of constant pressure from people and situations that surround you.
Instead of reaching your dreams, a delay entered the picture. It took a long time before you managed to pick yourself up.
You also experienced a lack of confidence that you'll succeed. Your whole energy drained and you became overwhelmed.
The past is a part of taking a journey that's for you.
Two of Wands Future
The future will make you realize that hard work pays off. You're going to see how your accomplishments and efforts will unfold.
This is a stage wherein you'll finally know your true purpose. This means that you wouldn't have to feel lost anymore.
You're going to receive opportunities that align with your skills. You'll be able to show the world that you're gifted.
This is not to assure you that hardships will not occur because they will. But this time, you already know what to do to conquer them.
The future welcomes you with the hope of the bright side.
Two of Wands as How Someone Feels About You
Someone feels like you're compatible with each other. The Two of Wands, as how someone feels about you, is specific for relationships.
This person is thinking of possible plans for you to connect. They want to engage in a deeper and healthier understanding with you.
This person feels it's their primary responsibility to take care of you. They want to provide more for the foundation of the relationship.
They also feel like you both want to grow together. This person is excited to prepare and make plans for a brighter future.
You made them believe that healthy relationships do exist.
Two of Wands Outcome
The Two of Wands, as an outcome, encourages you to make the right choice. But you're going to stick with what is the right choice anyway.
Once you make the right choice, this will slowly but surely bring results. So expect to have positive results if you choose to take the positive road.
You will not have to doubt your abilities anymore because you'll succeed. You're confident that your choices are worth choosing.
If you're stuck between choosing two job offers, go for the active one. If that job continues to urge you for an interview, DO IT NOW!
Two of Wands Pregnancy and Fertility
The Two of Wands can represent pregnancy. Therefore, this card would most likely reveal a pregnancy test or result to be positive.
Once you hear the news, you'll start thinking about your possible choices because you'll need to pick up a decision soon enough.
You'll view pregnancy as a beautiful opportunity for growth. This will only encourage you to accomplish the goals that you'll desire.
You're going to put in a handful of time and effort. You're willing to provide genuine love and care for the baby.
But you have to do something with your bad temper as a mother.
Two of Wands Energy
The energy resides with your constant yearning to succeed. The Two of Wands shows that you're willing to make concrete plans for the long-term.
Instead of being impulsive, you'll consider viewing your long-term goals. Then, you'll evaluate opportunities and situations that will benefit you in the long run.
You're ready to plan how you'll achieve your goals. You will not rely on your vision, but you'll also make it a mission.
Keep in mind that you have the world in your hands. This means you're willing to figure out the path that will lead you to thrive.
Go, little rockstar!
Two of Wands Action
Roll the dice, or move your knight on the chess board because the Two of Wands requires you to take action instead of relying on your thoughts.
Your actions need to be as transparent as your vision. Nothing will happen if you choose to wrap your head around your dreams and illusions.
But it's important to consider stepping back for a while. Before you make your move, you'll think wisely about your decision.
It may take a long time for you to have the courage to expose yourself. It's okay to remain in your comfort zone for a brief moment.
Two of Wands as Intention
The Two of Wands has a way with art and making it alive. As a result, you can inflict your artistic side on others as an inspiration.
Your intentions would rely solely on your urge to show your creativity. It's not only in art but in how you see the world from a broader perspective.
You always have a clear mind capable enough to make wise decisions for your future. Therefore, you prefer not to waste time lingering with your choices.
Despite your confidence to choose, you still reevaluate your choices. You set strong intentions to make your dreams come true.
Two of Wands as How Someone Sees You
Someone sees you as their inspiration and motivation. You give them the strong urge to be in control of their choices.
You showed this person that positivity still exists in a chaotic world. Things may fall apart, but you'll always find yourself standing.
They admire your robust implementation of confidence. You taught them how confidence is the key to success.
This person feels like you have a deep connection. Your thoughts and actions align with them.
This person is also curious about what's in store for your long-term goals. They're willing to help you thrive and succeed as well.
Two of Wands Time Frame
The Two of Wands can show that your vision will transform into action. This can occur in the following days and weeks.
The minimum period for this card can be in a day. At the same time, the maximum period will last up to a week.
The card has a strong representation of the number two. So the
the event may occur in two days, two weeks, or two months.
The card has a connection with the zodiac sign, Aries. Its approximate period may begin on March 21 and will end on March 30.
Whatever the situation is, prepare yourself to make a choice.
Two of Wands as a Woman
The Two of Wands, as a woman, is someone who is passionate. You're the type of person who makes the present a gateway to achieving your dreams.
You use your feminine energy in order to show your confidence. You believe you have a lot to offer in this world that continues to change.
You exert an enormous amount of effort in the work you do. Moreover, you apply your artistic skills in your current career.
You're someone who is capable of where you should place your energy. You will not waste time on people who aren't suitable for your energy.
Two of Wands as a Man
Two of Wands as a man are shown in the tarot card. A man is wearing a red robe while a small globe is in his hands.
The man in the card symbolizes his ability to see the horizon. If you have this card, you make yourself the center of the world.
This doesn't necessarily mean that you're selfish when it comes to the spotlight. Instead, being at the center enhances you to reach your dreams closer.
The man in the card also shows that he's standing in a castle. This is a representation that you're open to bigger opportunities.
Two of Wands Communication
The Two of Wands is helpful for communication in a relationship. This gives you and your partner the motivation to grow individually and together.
Communication will always be the key to a healthy relationship. It's where understanding, patience, and empathy can be applied.
It's normal for you and your partner to have different interests. However, you must work on compromising and settling your preferences.
The primary goal should be your desire to grow with one another. Both of you should communicate how you'll be able to support each other.
Make a decision that will benefit you and your partner.
Two of Wands Reconciliation
The Two of Wands shows a possibility for reconciliation. You'll have to reunite with a past person to confront and settle your unsolved matters.
This person wants to move forward and make the relationship work. However, they're currently taking their time to reflect and strategize.
They wouldn't approach you immediately for a conversation. Instead, they're taking their time on what they should do or say.
This person is also looking back on the problems you've encountered. They're weighing the pros and cons and how to prevent tragedy from happening again.
It's not wrong to take a risk on love again.
Two of Wands Physical Appearance
The physical appearance of the Two of Wands can't always be specific. So the physical appearance pertains to a single individual rather than the whole.
The physical appearance can always change over time. So it's normal if you often change your physical appearance for individual growth.
What matters the most to this card is the nature of the person. You're someone who is consistent in being ambitious and passionate.
You open yourself to countless opportunities. This may be the result of your constant change of appearance.
You have the ability to blend your soul into an unfamiliar sea of people.
Two of Wands in a Love Reading
The Two of Wands in a love reading shows signs of long-distance. This will be a challenge for you and your partner to commit heavily.
The card gives you strength and commitment in order to make the relationship work. Even if things are uncertain, you'll still take the risk.
This card can serve as a new beginning for you in love. You're going to meet a new person that can bring abundance and the love you deserve.
You and your partner will do anything to make the relationship work. You need to settle your differences and goals with each other.
Two of Wands Reversed Love Reading
It's normal that things result in the way you're not expecting to. The Two of Wands, in reverse, wants you to take time in love.
It's good to know that you and your partner have long-term goals. However, you should both understand that accomplishing goals will always take time.
You shouldn't feel discouraged if your partner isn't always on the same page. Keep in mind that both of you have individual goals to take care of.
You can now sense that the spark is slowly fading away. You would often argue about things that can be resolved through proper communication.
Two of Wands Reversed Outcome
The outcome will lead you to make the wrong choices. You can't wrap your head around the right mindset or path for you.
As a result, your wrong choices will lead you to a delay in progress. You'll complain that your desires or goals are taking so long to arrive.
You often doubt your choices and if they're worth choosing. You also doubt your skills and think that you're too incompetent for the corporate world.
You will make the wrong choice when it comes to job offers. Instead of choosing the path towards passion, you'll choose to be practical.
Two of Wands Reversed Pregnancy
The Two of Wands in reverse shows no sign of pregnancy. The card senses this from the result of the pregnancy test,
The news about the failed attempt to become pregnant will devastate you because you've been waiting to hear such good news for months.
The reason may also be because of your fear of committing to parenthood. You're not ready to take the risk and do the duties as a parent.
As a result of the adverse pregnancy, this will delay your self-growth. Perhaps you'll remain in a dormant state.
You can't provide for someone who doesn't exist yet.
Two of Wands Friendship
The Two of Wands in friendship is simply a chill card; it doesn't pressure you. This means that you and your friends have good connections together.
The arguments that you would encounter would always dissolve. This is because you're willing to settle disputes, forgive and compromise.
You're lucky to have your friends as your support system. They're willing to make time for you and do things that are beneficial for productivity.
If you want to spend time with each other, you can try out new things. Maybe you can try volunteering or joining protests that deal with human rights.
Two of Wands and Three of Pentacles
Don't restrict yourself from learning new ideas. Because one of your purposes in this life is to learn more things.
You're a human being who is bound to explore the unknown. Don't hesitate to take this leap of faith, for it will benefit you the most.
You're someone who is ready for another challenge in terms of your career. But you can't do this alone, so you need backup.
The Three of Pentacles and Two of Wands are a great combination. They're a sign that teamwork definitely makes the dream work.
You're not an island of your own, so you can't survive alone. You need people who are willing to help you to finish tasks.
If you're in a corporate job, take this time to brainstorm with your co-workers. Try to listen to their ideas and express your ideas as well.
You'll all benefit once the work is a success.
Conclusion
Encountering a Two of Wands in a Tarot reading signifies that your angels and the universe guide you in all your endeavors. Having this card in an upright position presents you with promising opportunities. However, getting this card in a reversed position points out what you need to improve to succeed.