Five of swords is one of the cards in the minor arcana group. It depicts a man with a smug look on his face. He picks up the swords as he looks slyly towards the other. His smile is tricky as if proud of his triumph.
Behind him stand two men that seem to tell us of defeat and loss. The other is at a loss for words and buries his face to his palms. The other man looked as if he had just been defeated. Both of these men lost to the man with a cunning smile on his face.
The man is picking up the swords, and he now has three in his hand. In the background, we can see the unsettled clouds. They are being swept off by the seemingly strong winds that envelop the man and the stadium.
Five of Swords Upright Keywords
Battles

Arguments

Fights

Conflict

Defeat

Surrender

Disagreements

Competition

Disputes

Aggression

Bullying

Intimidation

Stress

Hostility

Change

Deception

Lack of communication

Abuse

Crime
Five of Swords Reversed Keywords
Compromise

Moving forward

Reconciliation

Past resentment

Moving on

Resolution

Revenge

Regret

Remorse

Releasing stress

Cutting losses

Surrendering

Humiliation

Relentless

Shame
Five of Swords General Meaning
The man smiles deviously at the two gentlemen that's just leaving the stadium. One of the losing men has his head down and looks pretty disappointed and can even be crying. The man may have lost in a serious argument that caused him pain.
The man, while picking up the swords, is aware of his competitors' feelings. However, he is relentless and continuous to show his sly smile, seemingly unable to take it all in. The losing men can be the people around you. You might be pushing them away as you bark with triumph. Or you are the one walking away from a situation that resembles this.
The swords are representative of words and intellect. They may have fought and, in this case, in arguments. As the man, you may be able to pick up something out of the arguments you've won. This additional information seems to be of importance as he smiles at his victory. In the background, the wind is blowing strongly that daunts the clouds behind him. This signifies that even though the battle has already ended, there is still no peace.
Five of Swords (Upright) Meaning
Similar to Knight of swords, This card tells you that you are engaging in some conflict. This can be something you stir up or not. This card says that these disagreements can grow and create more tension along the way. You might be so focused on winning that you forgot to put things into perspective. In a way, you have lost at some point in the battle or the bigger picture. Losing people can take a toll on you in the long run.
As you have won the battles presented to you, you slowly become more and more self-sufficient. Winning gives you dignity, a name, and a face that causes you to isolate yourself gradually. As the saying goes, no man is an island. As you gain these good things for yourself, you may be pushing people away.
This card can also tell you about your urge to fight every battle that comes your way. Perhaps to validate yourself and prove that you are right. However, it's clever to choose your actions. This way, you strengthen yourself and your relationship with others. You have developed discerning eyes that can objectively assess situations.
Five of swords tells us so much about ambition, hunger, and the destruction of wanting more. Too much competitiveness is dangerous. You should be mindful of the people around you and their feelings. Keep your eyes peeled and police yourself if you feel like you have misplaced your ambition.
If you have been engaging in conflicts lately, this card tells you to act on it while it's early. Do something while you still have time to do so. Working early can help you learn new things and widen your perspective about life.
Five of Swords (Upright) in In Love and Relationship
In the aspect of your love life, this card can mean disputes within the relationship. You and your partner must be having problems in your relationship. This is mainly caused by poor communication. Furthermore, these issues cause stress and aggression. This card can also mean that one of you is self-sabotaging yourself. Someone might be tolerating destructive behaviors like cheating and infidelity. Permitting these kinds of actions on your watch can slowly damage you.
In any way, it would be helpful if you chose your fights. Your overwhelming ego causes some conflicts. Make sure you engage in wars that matter rather than those that are useless and irrelevant. Refrain from fighting futile battles that do not help you grow.
True love does not push you further down where you already are. A relationship is supposed to pull you up and grow with you. It's all about finding the right one. When you do, you can be assured that he will cause no harm to you. There is no deep despair in a healthy relationship.
If you are single, this card can indicate your attraction to toxic people. You might be tempted to be in a relationship. However, this relationship can involve someone who's not good for you. This person has a potentially dark aura waiting to pounce like a lion. You can be in situations you never thought you'd be in. Remember always to be careful when going on dates and such. Be detailed and be vigilant as you get to know people around you.
You might also be interested in Queen of Cups Tarot Card.
Five of Swords (Upright) in Career and Finance
Five of cards depict conflict. Therefore, in the aspect of career, this points to disputes in the workplace. You may be experiencing tension and stress due to the situation. These conflicts are most probably because of the lack of communication between workmates.
Similar to King of Swords, this card can also tell you that you may feel the urge to leave the work you have now. This card can also notify you of potential bullying at your workplace. This card signals you to fight back and stand up for yourself or others.
However, do not make any rash decisions. Be sure to plan your move carefully. Impulsive actions will not lead to victory. Instead, be calculative and be confident about every move you make. Do not worry too much because doing the right thing is one thing to be sure about.
This card is also telling you to police yourself. You might have made contributions to the conflict in your workspace. Try to assess yourself and take the proper measures and actions. In any way, it's best not to take part in any deception or bullying in the workplace. You can also have tendencies of self-victimization. This means maybe you are acting quite too defensive that it results as the fuel to the fire.
In the financial aspect, this card tells you that you may experience money conflicts. It might be with someone directly close to you, like a family member, friend, or partner. This card warns and advises you to be more careful in handling your money. Do not trust people easily even though they are someone you consider close to you. People can take advantage of you.
Five of swords tells you that you might be tight on a budget right now. There may be a need to refrain from your past luxurious expenses. Develop a smarter decision-making habit. Help yourself grow financially and wait as your success unfolds.
Five of Swords (Upright) in Health
In the course of your health, this card symbolizes exhaustion. Along with this, you can be experiencing anxiety or stress. All the things happening to you right now have drained your energy. Do not put pressure on yourself. Just be objective and avoid over-feeling emotions, especially the negative ones.
This card also strongly warns against self-sabotaging. You might have the urge to drink and smoke until you drop. There's a marked tendency you subjecting yourself to harmful and destructive activities. Avoid resorting to these kinds of coping mechanisms.
Five of Swords (Upright) in Spirituality
In the course of your spirituality, five of swords tells of the wisdom you have acquired as you triumph over struggles. These experiences have also gifted you strength and empathy. You might feel the urge to share and help other people. Praying for them is a huge help as well.
Five of Swords (Reversed) Meaning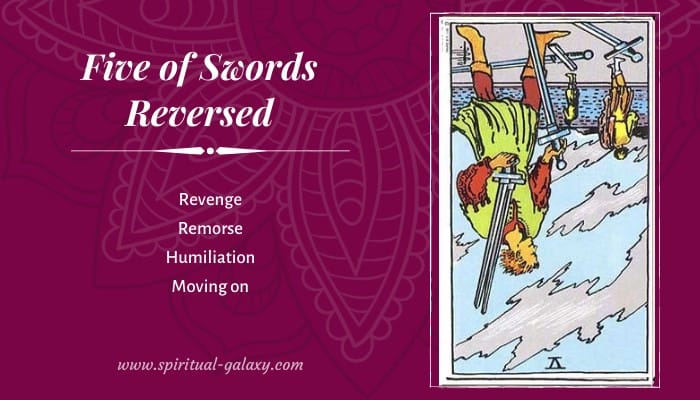 Five of swords in reverse signifies a resolution, an end of a situation that has been bothering you. This card points to finding harmony soon and recovering what was lost during the conflict. On the other hand, this card in reverse sometimes means an escalation of these things. You might feel like you're not willing to settle things yet. However, this will only cause more chaos and misunderstanding. Try to avoid worsening the situation.
Five of Swords (Reversed) in Love and Relationship
In the course of love, a reversed five of swords talks about reconciliation. After a conflict and misunderstanding, both of you are now ready to admit to your mistakes. Both of you are now willing to lay down your weapons and engage in a rational conversation. Communication is an integral part of a relationship. Without it, the relationship amounts to nothing. It's like you're not in a relationship at all. This card tells you that you and your partner both want to get over the misunderstanding and communicate.
At times, this card in reverse can mean walking away. You may find yourself walking away from someone special or a potential lover. In these situations, both of you cannot find any reason to continue and decide to let go. Allow yourself to think and decide about what's the best decision to make.
If you are single, this card in reverse offers a new perspective. You may have realized that you may be too defensive about letting people in your life. This can indicate that you may be more open now more than ever.
Five of Swords (Reversed) in Career and Finance
Five of swords in the workplace signifies that the conflicts are coming to an end. All the pent-up feelings are now released, and people are ready to talk things out. Compromise is often needed, especially when you are in groups. On the other hand, this can also mean worsening the situation. The level of deception and harassment may skyrocket, especially without intervention.
In the course of the financial aspect, this can mean slow resolution. If you are dealing with some intense situation, having this card in reverse means, you are nearing the end of the situation.
If you are close with people who attack you financially or those taking advantage of you, they will slowly keep their distance. Perhaps, a feeling of guilt seeps in, or for whatever reason, you will find them drifting away. This card also suggests that these people be held accountable and pay for their transgressions.
Five of Swords (Reversed) in Health
In the course of your health, this card in reverse signals that you now have to find a way to alleviate and cure your health issues. If you have been experiencing health problems recently, you will be in a place where you know how to deal with and find a cure for these issues.
Five of Swords (Reversed) in Spirituality
Five of swords in reverse means that you have triumphed over a difficulty in your spiritual life. This resolution might have been made possible by the act of letting go. Perhaps, you may find yourself letting go of previous beliefs or traditions you were used to. You are now more aware. You have grown into someone who knows to steer in the right direction. A direction that helps you grow.
Five of Swords: YES or NO?
In general, five of swords delivers a not-so-positive message. We can conclude and agree that it is leaning more on the negative side. It represents stress, anxiety, defeat, and discord. Because all of these associations are negative, the answer to your question of yes or no is a NO.
Have you read the tarot card before this? If not, and you want to learn more, go to the Four of Swords Tarot Card, or you can proceed to the Six of Swords Tarot Card or Two Cups Tarot Card
Five of Swords Advice
The Five of Swords, as advice, wants you to be cautious. Don't put your trust quickly in people who do not receive your trust.
It may be possible that betrayal will take place in this situation. So prepare yourself as to how the events will slowly unfold.
Don't forget to choose yourself once this happens. Avoid relying on people too much in order to lessen your disappointment.
Because people will always disappoint you one way or another, you will feel disappointed because their energy does not match yours.
And it's okay to detach and focus on yourself for a while.
Five of Swords Reversed Advice
The Five of Swords, in reverse, wants you to step back. Don't drag yourself further into a situation that you're not familiar with.
Things will only get worse if you put yourself in a conflict. This means that you have to perform more responsibilities and seek solutions.
No matter what the reason is, this conflict isn't worth it. If you're doing this for another person, this conflict isn't worth the fight.
This is a reminder that you don't need to be right all the time. Learn to be open-minded in terms of educating yourself on more ideas and information.
Five of Swords as a Person
The Five of Swords as a person is someone who is competitive. You're the type of person who doesn't want to lose at any battle.
There will always be a point wherein you choose to be stubborn. You won't stop until you get the prize or win the tournament.
You will not have anyone and anything else stand in the way. For the sake of fulfillment, you'll do anything just to prove you're right.
Things may get uncomfortable when you enter the room. This is because some people aren't fond of the attitude you give them.
You can be infuriating.
Five of Swords Reversed as a Person
The Five of Swords, in reverse, is someone who isn't expressive. You may have difficulty when it comes to opening up your emotions.
You're someone who chooses to keep things inside. You have a lot of problems going on, but you don't decide to show it.
If someone irritates the life out of you, you'll choose to stay silent. Instead of telling it to the person who should apologize, you keep it to yourself.
You're seen as someone who is always fragile or vulnerable. And there may be people who don't want to respect you.
So choose to be open.
Five of Swords Present
In the present, you need to start walking away right now. This may not be the right time for you to work on something.
If you feel like something isn't for you, take that as a sign to retreat. You need to do more and improve yourself for the future.
You're going through a rough phase in your life. But you refuse to open up your thoughts and emotions to someone.
As a result, everything feels overwhelming and consuming. It may not be long before you decide that you should give up.
So speak your thoughts before it's too late.
Five of Swords Past
In the past, you experienced a majority of breakdowns. There were episodes wherein you just wanted to take a long rest.
You used to lose the motivation to keep going. You felt small in a world that used to be bright and full of opportunities.
This is because you used to experience countless fallouts. You experienced rejections in terms of job opportunities.
But rejection doesn't make you a failure. Rejection doesn't mean that you need to stop believing that something is for you.
Because you can do so much more if you just keep the faith, you'll always be okay.
Five of Swords Future
In the future, you'll learn to discover how to spot problems. You'll soon learn how to analyze these problems and overcome them.
You'll use your past experiences as a lesson. You just need to keep believing that you'll be successful in the future.
Believe that everything will fall into place and you don't have to fall. But if you do lose, remember that you'll stand up for yourself again.
The future offers you an abundance of opportunities. It is up to you if you're willing to accept the challenges that you will enter.
Keep thriving; you're always doing great!
Five of Swords as How Someone Feels About You
Someone feels irritation whenever they think about you. This is because you often do things that can already be below the line.
This person finds you stubborn most of the time. They feel like it's their primary responsibility to lecture you to stay put.
This person feels like you want to prove something for yourself. That's why you continue to show that you're always right.
This person feels like they have to walk away from you. They can't tolerate your stubborn and narcissistic behavior if you continue to.
They feel like keeping up with you needs a lot of work.
Five of Swords as Outcome
The Five of Swords, as an outcome, presents negativity. Prepare yourself because a shocking revelation may appear soon.
Perhaps you're suffering from a toxic relationship. But you can't leave this relationship because you still believe it will work.
You may find out that someone's been hiding something from you. Maybe your partner is cheating on you behind your back.
If you're not in a relationship, you're currently in separation. This is making you more exhausted and devastated by everything.
Maybe it's now time to detach yourself. Leave the situation that makes you feel like you aren't worth the considerable risk.
Five of Swords Pregnancy and Fertility
The Five of Swords can be in relation to pregnancy. Perhaps you're still trying to have a baby, even if it seems impossible.
Maybe now's not the right time to enter the life of parenthood. Maybe this is a time for you to focus on yourself and your goals.
You don't need to spend your precious time waiting. It will only be a delay for the opportunities that are in store for you.
This may also be a time for grieving for something that's not there. Take all the time in the world to be okay.
Continue to place faith.
Five of Swords Energy
The Five of Swords may represent uneasy energy. This may be in relation to your current thoughts and emotions.
You're currently struggling with your priorities. This is because you don't know where to start and if the journey will be successful.
The energy is uneasy because everything seems uncomfortable. Maybe you don't allow yourself to make more room to grow.
But if you don't move on from another place, how will you grow? Will you choose to be content with feeling uneasy energy?
No one wants to feel negativity. So take this as a sign to start moving.
Five of Swords as Action
The Five of Swords as action is an essential guide for you. This may be a sign that you shouldn't get too comfortable in joining conflicts.
If you want to prove your skills, don't join a fight club! Instead, think about the possible consequences that will occur.
Sometimes, you need to accept the fact that you don't always win. Taking action towards removing everything in the way doesn't make you a winner.
Sometimes, you need to give the trophy to other people. But, you need to be more understanding and compassionate.
So give these people a warm applause and smile!
Five of Swords as Intentions
The Five of Swords as intentions may rely on your desire to win. You don't care about the process as long as you win.
Your intentions rely on your desire to show that you're right. Maybe you continue to prove this by joining more debates and conferences.
You don't want to accept the fact that you can be wrong. So you work hard in order to prove your point or proposition.
If you wish to grow, you'll do anything to improve by bolstering your confidence. While this may present an arrogant or boastful presence to others.
So always think first.
Five of Swords as How Someone Sees You
Someone sees you as the kind of person who is hard to deal with. You may be someone who continues to show them how stubborn you are.
This person wants to understand why you keep acting like this. They don't want to tolerate your challenging behavior anymore.
This person sees you as someone who is confident. But they believe you would always think that you're right even if you're not.
This person sees you as someone who prioritizes pride and ego. You'll do anything to get to the top or win an argument.
This person believes that you're too competitive.
Five of Swords Time Frame
The Five of Swords can have a specific time frame. But it will always depend on your current situation and emotions.
A specific event may take place in just five days. This may be in relation to an event that will shock or disappoint you.
The Five of Swords is connected to Venus in Aquarius. A specific period may begin on January 20 and will end on January 29.
The Five of Swords is connected to the element of air. The number five is a representation of instability, loss, and freedom.
So you need to prepare yourself for shocking news.
Five of Swords as a Woman
The Five of Swords card can be a representation of a woman. If you have this card, you may be someone who is suffering from grief.
Maybe a rough separation took place in your life this year. It suddenly changed your mind about how you view love in the real world.
Or perhaps you're currently trying to fix a toxic relationship. It seems like you're more of a giver than the receiver, and it's getting exhausting.
Take this as a time to choose peace for yourself. If you feel like you're not growing, maybe it's now time to let go.
Five of Swords as a Man
The Five of Swords can be a representation of a man. If you have this card, maybe you're still struggling to cope up with life.
You're someone who is currently dealing with several responsibilities. And you don't know which one you should prioritize first.
Perhaps you're someone who thinks you're always right. You don't want anyone to dictate you about what to think and do.
So there may be people who are annoyed because of your presence. You may present yourself as someone who always has a lot of pride.
Don't keep your ears closed to prevent receiving sufficient knowledge.
Five of Swords Communication
The Five of Swords may show that communication is blocked. It seems as if you're preventing yourself from being in a confrontation.
If you're in separation, then you're avoiding getting closure. You continue to run away from your responsibilities instead of facing them.
You're someone who refuses to express your feelings. So you continue to keep everything to yourself instead of seeking help.
You're someone who doesn't want to hear the right words. You continue to force yourself into believing words that aren't really true.
Don't be so hard on yourself. Accept the fact that you need to learn more.
Five of Swords Reconciliation
The Five of Swords may show a negative sign for reconciliation. Perhaps a past person isn't ready to show themselves to you.
They're not in the right headspace to ask for a second chance. This is because they're currently working to improve more.
This person knows that the relationship you had was toxic. This is why they believe that both of you need to focus on your individual lives.
This could also mean that the relationship will feel forced. The relationship will feel pretentious if you decide to give it another try.
You don't need to push things for you.
Five of Swords Physical Appearance
The Five of Swords can have a specific physical appearance. However, it will always depend on the one who received the card.
You may have a hair color that can be brown or black. You can also have a black or brown eye color.
It is also possible that your hair color is blonde while you have blue eyes. This will represent your intense energy to win.
But the physical appearance of this card should not matter. After all, we have different appearances and the way we perceive this card.
Don't dwell too much on the outside; you're still beautiful.
Five of Swords in a Love Reading
The Five of Swords can be a card for a love reading. But you need to take your time to analyze if this relationship is worth it.
You and your partner are experiencing a fallback. Perhaps this is because you continue to experience countless disputes and arguments.
You may be someone who chooses to show that you're right. But you don't decide to have an open mind in understanding your partner.
Your pride and ego may cost a lot of trouble in this relationship. You'll not be able to work this out if you don't learn how to compromise.
Five of Swords Reversed Love Reading
The Five of Swords, in reverse, may show compromise. Maybe now is the time to start setting things up in the right way.
You and your partner are currently adjusting. Perhaps you're both making significant changes that will benefit the relationship.
Forgiveness and acceptance are applied through this process. So you continue to practice implementing how to be more open.
You're both doing a great job in making this relationship work. So be sure that you're both prepared to fight toxic traits and patterns.
If you're in separation, expect that reconciliation will take place. You both deserve a second chance.
Five of Swords Reversed Outcome
The Five of Swords, in reverse, is a virtual card for an outcome. This may be a sign that you're currently improving yourself.
You used to hide your genuine emotions in the dark. But now you realize that it will be more difficult if you continue to be private.
You believe that it's not a bad thing to depend on others. You depend on people when you need someone to listen to your problems.
So you're slowly allowing yourself to engage in open communication. You believe that communication is the key to making everything better.
Don't worry; you're still growing.
Five of Swords Reversed Pregnancy
The Five of Swords in reversed is related to pregnancy. This may be the sign that good news may come its way to you.
After spending countless times waiting, you'll receive good news. This may be in relation to finally have a baby.
If this news is accurate, then the universe wants to congratulate you because you're now moving to another stage in your life.
The next stage will be more complex than the first, which is why you must be willing to work harder in order to succeed.
Now is the time to seek guidance and support from people.
Five of Swords Friendship
The Five of Swords is a card for friendship. This serves as a guide to know if your friendship status is going well or not.
In your case, your friend groups are having a conflict. Maybe gossip or backstabbing continues to be on the rise.
If major arguments happen, don't try to pick a side. Instead, stay neutral in order to understand the different sides of your friends.
You can be the pacemaker of this conflict if it is possible. So try to be moderate and educate your friends to settle disputes.
In this way, you'll be able to grow.