King of cups is part of the minor arcana cards. This card depicts a king sitting on a throne. The king is wearing elegant clothing fit for a king. The garment is composed of the colors blue, yellow, and shades of red.
In his right hand, he holds a cup in an upright manner. On the other hand, he has a scepter. Both the cup and the scepter are made of fine gold. The king is wearing a necklace that resembles an amulet. The pendant is a fish that hangs on his neck.
As we can observe, he does not lay his eyes on the things he's holding. Instead, he is looking at something far away. He sits on a throne that's amidst turbulent waters. However, this doesn't bother him that much, as shown on his face.
In the background to his left, we can see a ship that's floating. On the other side, the right side, a fish jumps out from the sea. The image depicts calmness even in troubled waters. The image portrays being in control no matter the calm or the disturbing waves of waters.
King of Cups Upright Keywords
Emotional balance

Balance

Diplomatic

Compassionate

Advisor

Wise

Counselor

Devoted

Creativity

Wisdom

Tolerant

Reliable

Charming

Loyal

Faithful

Spiritual

Generous

Romantic

Affectionate

Calm
King of Cups Reversed Keywords
Emotionally immature

Gullible

Repressed

Cold

Inner feelings

Emotionally manipulative

Overwhelmed

Anxious

Withdrawn

Selfish

Intolerant

Unproductive

Uncaring

Deviance

Unbalance

Blocked creativity
King of Cups General Meaning
The king sits on his throne amidst troubled water that symbolizes his calm nature. He is in control, and he knows what he is doing. On his neck dangle a pendant that is carved as a fish. This amulet represents the king's creativity, spirit, and capabilities.
The cup in his hands represents his emotions. The way he holds the cup is remarkably calm and balanced. From this, it portrays the sound balance of his emotion. His other hand has a scepter. A scepter is a symbol of authority. It represents his power and control over his subjects and his life.
He is facing straight and does not look at the surroundings or the things he holds. This mirrors his expertise. He has now mastered the art of handling his emotions and can take himself well without much effort. The turbulent sea on where his throne floats symbolize the bumpy roads in one's life. As the king sits firmly on his throne, he is ready, and he is balanced. The fish and the ship in the background symbolizes new things.
They may symbolize wisdom, intense emotions, and struggles, but whatever they are, the king's mind is open for them. He knows he can handle and acknowledge them without getting carried away or overwhelmed.
King of Cups (Upright) Meaning
Similar to King of Swords, King of Cups is a card of mastery. This card portrays your ability over your emotions, creativity, and your unconscious. In addition, this card tells you of your achievement. Finally, you have achieved control over your feelings.
This means you can acknowledge them and accept that you feel these things. However, no matter how intense these feelings may be, they cannot get the best of you. In other words, you already mastered the battle plan and are most likely to win every time. This is because you are in charge, and you use the authority for good.
King of cups represents the balance between your emotions and intellect. You can use them both to your advantage. When you encounter difficulties in life, you are better at making the right decisions. Navigating your emotions and reactions will be easier as you have learned a lot through time.
This card also serves as a reminder and a challenge. King of cups challenges you to use what you have acquired and endure in the face of negativity. It serves as a reminder to stay objective and reasonable even in times of hardships.
This card encourages diplomacy and harmony. Your awareness and understanding will enable you to supplement the missing parts and create balance. You are sensitive, and you care about what the people around you feel. As the king, you are balanced, and you create peace and harmony even amidst chaos.
King of Cups (Upright) in In Love and Relationship
In the course of love and relationships, this card emphasizes the balance between your feelings and your reason. This card speaks of your maturity and your love for family. When issues arise, you know how to handle them and help in fixing the situation.
Similar to King of Wands, this card represents your good qualities as a partner. The card exudes love, and so you will be experiencing emotional fulfillment. If you and your partner have been in a challenging situation lately, good things are coming.
This card brings good news about the growth of your relationship. It serves as a reminder that you are not alone and you have your partner to lean on. Your partner is very supportive. He or she supports you in what you want to do and does things to help you.
If you are single, this card brings good news. A potential partner with these great qualities is on his way. He will be charming, romantic, faithful, and reliable. This is one of the best cards to pick in terms of relationships. When you find the one, you will probably know it.
King of Cups (Upright) in Career and Finance
King of cups in the aspect of your career signifies an advisor. Perhaps a senior colleague or a boss or someone that's fatherly will be there to help you. He will guide you to a more emotionally fulfilling career. He will provide comfort and advice like a father.
You will be acknowledged, and you will have a steady relationship with your workmates. This card reminds you to keep your stuff balanced. Please pay attention to all areas in your life to not miss one of them. Pay necessary attention to your work life and don't neglect or take it for granted.
This card also emphasizes your wisdom and creativity. You will gain appreciation because of the correct use of your knowledge. You will also excel in the field of arts and things that require you to be creative. Even on the standard work, you do every day; you would find a way to spice it up.
In the financial aspect, this card represents stability and security. On the other hand, this card also reminds you to be logical in your financial decision. This card can also mean a lack of economic drive. Remember to keep the balance in the areas related to finances too.
King of Cups (Upright) in Health
In the aspect of health, the king of cups is an overall sound card. It indicates healing and balance in the context of your health. It reminds you to treat yourself with more care each day. Be kind to yourself.
King of Cups (Upright) in Spirituality
The king of cups in terms of your spirituality speaks of heightened psychic abilities and your intuition. This card tells you that you have developed a deeper understanding and trust in your skills and intuition. King of cups also means you will be receiving spiritual messages, and you can understand them.
King of Cups (Reversed) Meaning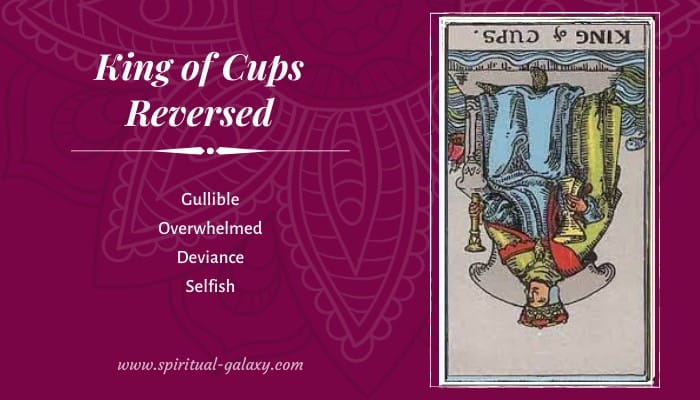 King of cups in reverse tells you of the great tendency to focus solely on your innermost emotions. This could lead to being overly sensitive about things and can tend to overreact. This card tells you of a possible imbalance in your life. For example, you might fail to balance your thoughts, emotions, and intellect. It can also point to using your strengths as balance and brightness to achieve your needs in manipulative ways.
King of cups in reverse may point to a person in your life. This can be someone you find calm, balanced, and controlled in his intellect and emotions. However, this person might have changed, and you are there to witness it. Perhaps he has become manipulative and emotionally controlling. The person's behavior can be affecting you and your well-being. You may or may not be aware of his actions, but you could be taken advantage of.
If you ever find yourself feeling like you're being controlled, it's a given that you speak up. If this seems pretty tricky, try to think of your life. Would you want to live your life like that? Ask yourself the critical questions and make the right decisions. Be firm for what is right.
King of Cups (Reversed) in Love and Relationship
In the aspect of love and relationships, king of cups in reverse emphasizes emotional immaturity. You may be in a fading relationship as one or both of you are becoming unstable and toxic for the connection.
Perhaps one or both of you is becoming manipulative and selfish. You could be using your emotional intelligence to get the best of each other. But, on the other hand, one or both of you might have shifted to just using each other to accomplish their own selfish goals.
This card also speaks of the lack of effort into your relationship. Suppose the relationship seems to be uncontrollably toxic, and it's causing great emotional, physical, and mental pain for you. In that case, it may be time to leave. However, if the case is more complicated than expected, it's best to call a professional and let them help you.
If you are single, this card in reverse is not a good sign. You could end up having an affair or meeting someone manipulative and controlling. On the other hand, you can be in a relationship with someone who thrives in deception and cold. It would be for your benefit to choose wisely and be mindful of the people that come into your life.
King of Cups (Reversed) in Career and Finance
King of cups in reverse points to a figure at work that may have become pretty much like a tyrant. You may have to deal with someone cold and unstable in your career. This can be your boss or a manager. In any way, it won't be easy. This card in reverse also tells you to look after yourself as you may be the one exhibiting these qualities. You might turn to someone as described earlier. This card can also mean that you feel dissatisfied with where you are right now.
King of cups in reverse also encourages you to reconnect with your job as the excitement may be slowly disappearing. Try to assess yourself and your actions. As much as possible, police them if you are in the wrong. Do not condone destructive behaviors as you may grow accustomed to them.
In the case of your finances, the reverse king of ups highlights difficulty. You may find yourself having trouble controlling your financial habits and impulses. Your mind must be pretty blurry, and you are unable to make sound financial decisions. The imbalance between your emotions and logical reasoning can be taking a toll on you.
King of Cups (Reversed) in Health
King of cups in reverse tells you that you may be submitting yourself to harmful coping mechanisms. For example, you might be going through challenging circumstances, and you feel exhausted and perhaps deteriorate. These intense negative feelings can be pushing you to unhealthy practices.
This card warns you of something in your life and environment that can cause your health to deteriorate. This card encourages you to make better decisions for your health. Check your lifestyle and try to eliminate things that you know are unhealthy for you.
King of Cups (Reversed) in Spirituality
King of cups in reverse is telling you that your spiritual abilities are blocked. On the contrary, you might be misusing your skills and for the wrong purposes. This card encourages you to take your time and energy in developing your abilities and spiritual connections.
King of Cups: YES or NO?
King of Cups is a card of security and balance. The card depicts being intellectual and wise in decision-making. He does not let his emotions get the best of him, and in the same way, he does not use these things in the wrong way. For these reasons, the answer to your yes or no question is YES.
If there is a king, there must also be a Queen of Cups Tarot Card. Or you might also want to check out this Page of Swords Tarot Card article that I wrote.